The International Air Transport Association (IATA) supported by airports group Swedavia, the Civil Aviation Authority of Sweden, and the Swedish Aviation Industry Group, are urging passengers to "Fly Safely, Drink Responsibly" and to think carefully about their alcohol consumption before boarding flights.
Unruly passenger incidents are rare, but when they do happen, they can have serious consequences and cause inconvenience for other passengers and employees working onboard and at airports. Globally, alcohol intoxication is identified as a factor in around 27% of unruly and disruptive passenger incidents.
The Fly Safely, Drink Responsibly campaign highlights the consequences passengers may face if they become unruly and disruptive. These range from being denied boarding, to airline flight bans, to being billed for the costs incurred by an airline, or in the most extreme cases, arrest and a prison sentence.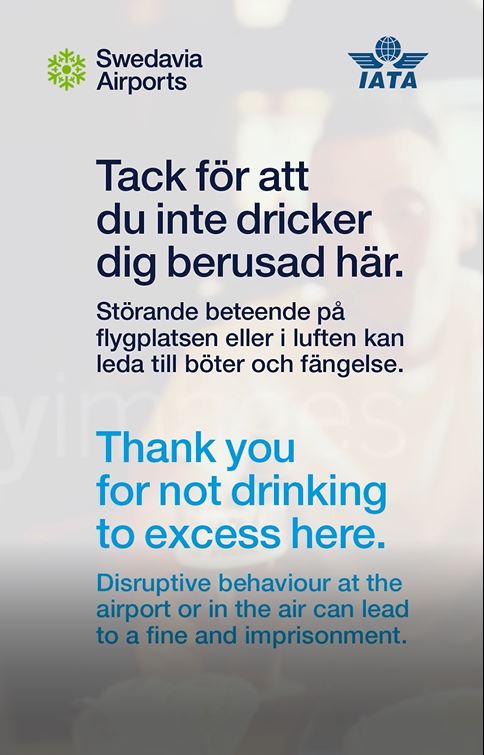 The campaign sees IATA member airlines, the Civil Aviation Authority of Sweden, the Swedish Aviation Industry Group, and airports operated by Swedavia, working together to reduce the number of incidents of unruly behavior associated with alcohol intoxication. This includes excessive drinking in airport bars and the consumption of duty-free alcohol during flights. Fly Safely, Drink Responsibly will be rolled out with digital screen signage in airports across Sweden, supported by a social media campaign.
"Everyone has the right to a flight free from disturbance. The Fly Safely, Drink Responsibly campaign encourages everyone to take personal responsibility to ensure a safe and enjoyable travel experience for themselves, their fellow passengers and hardworking employees, and to raise public awareness of the consequences of disruptive behavior while flying," said Rafael Schvartzman, IATA's Regional Vice President, Europe.
"The number of public disturbances related to alcohol consumption has increased in recent years and can constitute a risk to public safety and security both in our terminals and on board the aircraft. It likewise entails an occupational safety risk for our staff and naturally can also have a negative effect on our passengers' experience. In partnership with our security services providers, we are taking preventive measures to ensure that our airports remain safe, welcoming places," said Anna Svedberg, head of security at Stockholm Arlanda Airport, one of Swedavia's ten airports supporting the campaign.
"Disruptive and unruly passenger behavior can have significant negative impacts on passenger comfort and flying experience, detrimental impacts on airline brand image, affects the working conditions for crew, can cause flight delays or diversions and can in the worst case be a flight safety hazard. The problem is global, and a global response is necessary. The Swedish Aviation Industry Group with all its members therefore fully supports the Fly Safely, Drink Responsibly campaign, and will act to do our part to address the problem," said Fredrik Kämpfe, Director Industry Affairs, Swedish Aviation Industry Group.
"We put safety of aviation and passengers first. Unfortunately, incidents of this kind occur and have increased globally over the last years. These incidents have a direct impact on both the safety of crew and of passengers. Therefore, we welcome the initiative to raise this issue and we support IATA's and Swedavia's Drink Responsibly Campaign," said Gunnar Ljungberg, Director, Civil Aviation and Maritime Department, Swedish Transport Agency.
Source: IATA (February 2020)