The Municipality of Florence in Italy is launching a campaign against alcohol abuse starting in April. The campaign aims to raise awareness about the responsible and conscious use of alcoholic beverages among young people, adults and families. The campaign will feature four themes displayed throughout the city on traditional posters and digital screens with the slogan "Non è un gioco" (It's not a game).
One of the critical concepts of the campaign is responsibility. For those over 18, this means not driving after drinking, illustrated by a graphic showing cars inside a bottle. For adults, family members or business owners, this means not allowing those under 18 to consume alcohol, as emphasized by the headline "prima dei 18 no grazie" (no thanks before 18). As the campaign states, "exaggerating with alcohol does not make you a phenomenon," and an upside-down corkscrew in one visual represents the "day after" an alcoholic evening. "Know your limits. If you drink, use your brain," is the message being conveyed.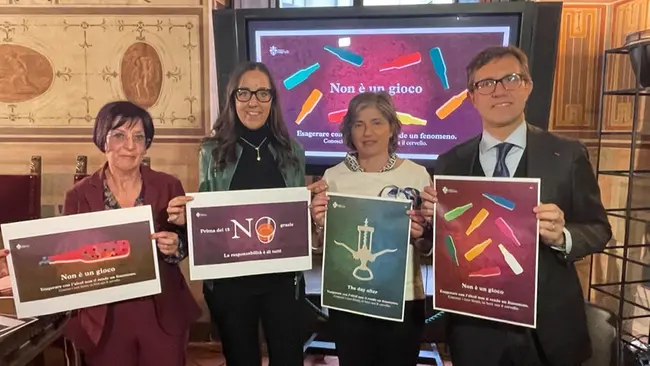 The project was presented at Palazzo Vecchio by Mayor Dario Nardella, Welfare Councilor and President of Società della Salute Sara Funaro, Special Councilor to the Mayor on addiction and correct lifestyles Mimma Dardano, and Director of SerD 1 Firenze Ausl Toscana Centro Adriana Iozzi. The initiative also results from a consultation process carried out at the municipal table on addiction coordinated by Mimma Dardano.
The campaign will be present throughout the city starting in April with posters, billboards and window displays on the digital signage circuit of the Municipality located in various meeting places such as libraries, theatres and info points. It will also be visible on the digital LED circuit located at the entrance and exit of the city and on the web through the official social channels of the City of Florence.
In 2022, 2,597 people were cared for by three Serd Zona Firenze health companies, with 587 users having alcohol-related problems and 271 young people between 14 and 25 years old. This is according to data from Ausl Toscana Centro.
"Alcohol abuse is a problem that affects the city's social fabric and, unfortunately, increasingly affects young people. This aspect worries us a lot," said Mayor Nardella. "This campaign concerns information and awareness-raising for citizens and results from teamwork between various actors in the territory. I hope this campaign, which is an additional action we put in our strategy to fight against alcohol abuse, will bear the fruits we expect."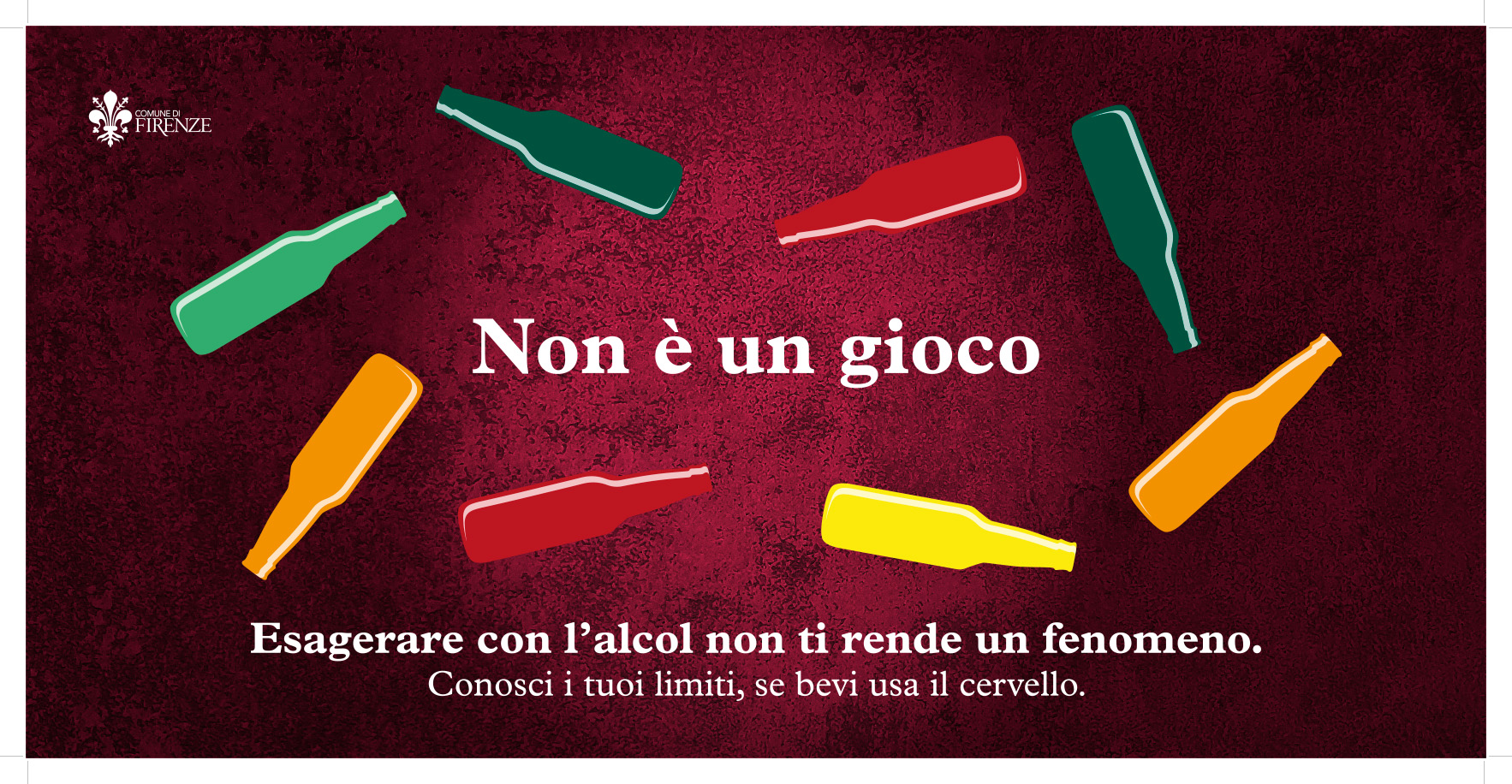 Welfare Councilor Sara Funaro added that "this work has been carried out by the addiction table coordinated by Special Councilor to Mayor Mimma Dardano. It is an additional piece in the fight against alcohol abuse that goes alongside various actions introduced on prevention and harm reduction. We are aware that the issue of alcohol must be addressed urgently; just look at access data to Serd, especially for young people. These are numbers that make us reflect. Many actions are to be taken, even at a communicative and awareness-raising level. This campaign can help us stop, reflect, and start a journey if an alarm bell is heard. As institutions, we must try intervening with all possible means."
Councilor Dardano emphasized that "the goal of this campaign is to raise attention on an issue that too often is not perceived as such; its scope or consequences on health or risks for oneself or others are not perceived. The project also responds to a series of requests that have come to us both at the municipal table for addiction and in health and well-being groups asking us to work specifically on mass primary prevention. It is important to change the paradigm and no longer always talk about addiction but about correct lifestyles. Alcohol is not a game; the challenge is to increasingly raise awareness among young people in particular. Prevention is a road to be pursued insistently so as not to act only on emergencies but tries to tackle phenomenon at its root."
On this occasion, Councilor Dardano also launched the second edition of "Festa degli stili di vita" (Lifestyle Festival) on May 12th at Villa Bracci, a day dedicated to health, well-being and correct lifestyles at 360 degrees with information initiatives and discussions as well as workshops on topics such as smoking cessation and alcohol consumption reduction, good nutrition and benefits of physical activity aimed mainly at schools. This year's edition will be titled "Incontrarsi tra generazioni" (Meeting between generations).
Source: Comune di Firenze (Italy, April 2023)